Quote of the Day : "And now here is my secret, a very simple secret; it is only with the heart that one can see rightly, what is essential is invisible to the eye."
-Antoine De Saint-Exupery

So UM ARMY is really soon and I'm really excited. Last night after bible study me, Kara, Anna, and Megan hung out for a while and talked about UM ARMY for a long time. It's so good. Anyone who goes can just talk about how amazing it is for hours, I know I have. I can't wait to go sleep on the floor and work hard all day and then take showers in a locker room and then play fun games and have worship and stay up late and then wake up early to do it all over again. It's going to be awesome. The last 3 years have, and this year will not be an exception. I just hope that I have a really good group, which is probable because there pretty much is no such thing as a bad group. I am sooo excited.

UM ARMY is always the high light of my summer and I'm going on Sunday. I can hardly contain my excitement. Every year it gets better. Every year the people there are just amazing, every single one of them is just so happy and so on fire for God and just so excited to be there. I love it. I love it I love it I love it!! One of the best things about UM ARMY are these little books that everyone has that people write it. Kind of like a yearbook for the week and all your friends write nice things in them, it's awesome. And all this thinking about UM ARMY made me want to think of them, so I'm going to. Mostly for myself lol, so feel free to stop reading.



1st UM ARMY - 2003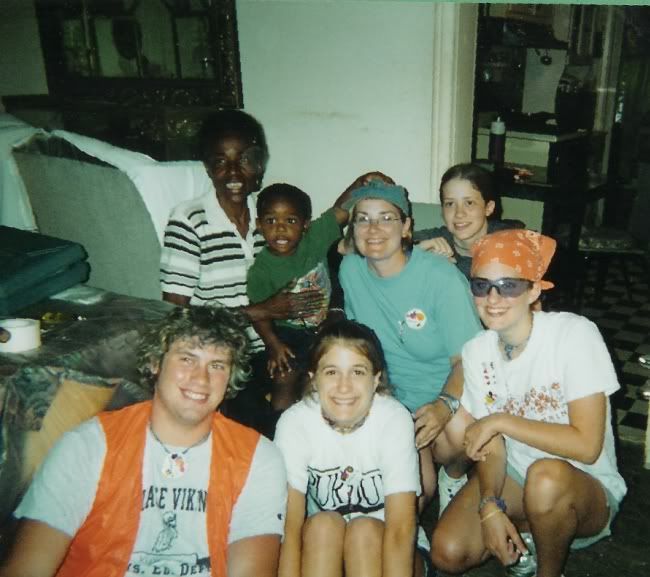 Logan, me, Mrs. Frank, Diane, Emily and Miss Jo and Denzel

I didn't really know what I was doing. Our group worked for Miss Jo the whole week to fix her ceiling. It was really bad. We took down some, some of it fell, and then put up new stuff. I learned how to hang dry wall and drill and spackle and float tape. It was impressive.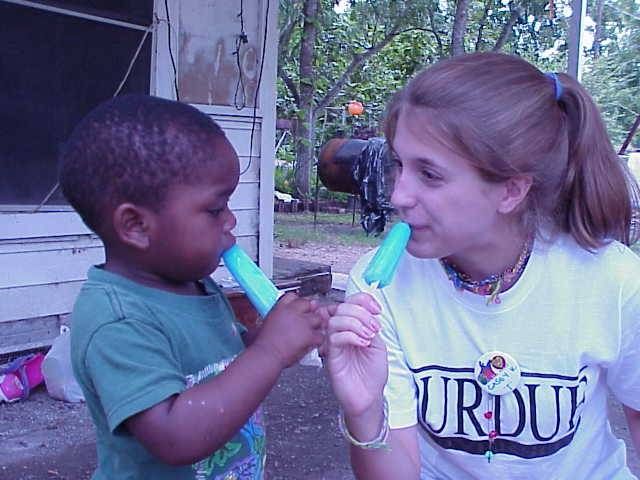 Denzel was Miss Jo's nephew and he was sooo cute. I love him. This UM ARMY was really good, but I didn't know that it was going to get a lot better.

A few nice things from my book:
"I hope you are having a great UM ARMY. Thank you for having a servant's heart and giving a wekk of your summer to Christ."

"You're one cool girl and you better stay that way! I'm so glad that I have you as a friend."

"You are awesome beyond words. It has truly been an honor getting to know you and to serve with you. God has blessed you and will continue to do so in the future."

"You are so GREAT! Thank you for sharing your smile with all of us this week. Your joy is spread to everyone. Hope to see you soon at the Dub."

"You are the sweetest most sincere person. You brought such a gentleness and loving nature to our group. Thank you so much."

2nd UM ARMY - 2004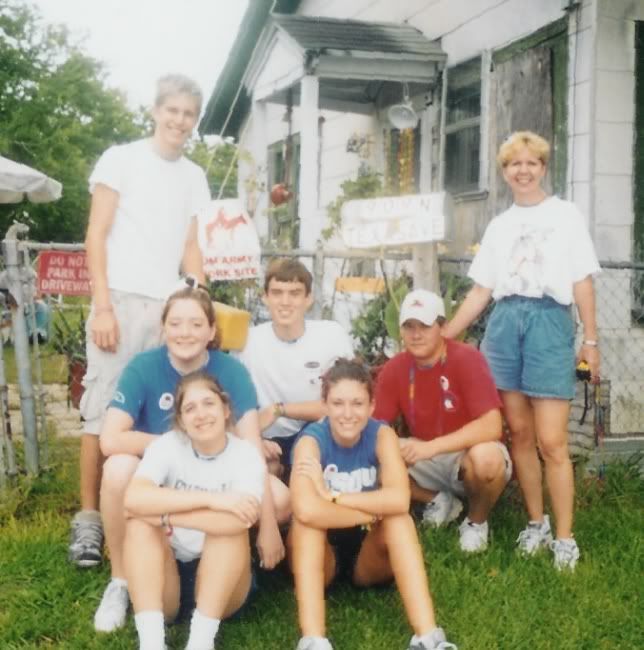 Steven, Priscilla, me, Kevin, Jessika, Wade, and Chris.

This year our group had the hardest house in the whole camp, lovingly nicknamed the duct tape house. It was an old hispanic couple and their son. The husband suffered a stroke a few years before and he was pretty much like a 4 year old, and their son Jesse had diabetes and was almost blind. There house was covered with holes which they tried to fix with duct tape. Their bathroom was awful, but we fixed it. Took out the entire floor and did it all again. We also put in new doors, screens, painted, floor boards, and a bunch of little stuff. Our group worked really hard, especially the boys. The girls worked hard too, but the boys did the bathroom while we looked at Tony the toolman lol. My group was awesome, we had a lot of fun and sang a lot of random songs.



I made that shelf for the bathroom and I am very proud. I worked really hard and then it turned out crooked and I was really upset, but still proud. It hung up fine and looked spiffy, just lopsided lol. I had tons of fun this year. It was at the church in College Station and it was really nice and the worship was amazing. Definitely the year that I grew the most in my faith, it was awesome. And one of the best parts was there was a pool in the middle of the church cause it used to be a hospital and when we ate breakfast we saw old ladies and one studly old man do water aerobics. It was awesome.

Book notes:
"You have such a vibrant personality. Getting to see your bright smile in the morning just makes me feel just that much better. I hope this week has brought you closer to God and opened parts of you, you didn't know you had. Be strong. Keep the faith and most of all believe."

"What a sweetheart you are! Thank you for sharing a week of your life with us. Your contributions were immense, and they were from your heart, which makes them invaluable. I hope that we cross paths again. Until then God bless you and all you do."

"You are the most supporting in the group. You heard me say this, but I loved how you always offered help to everyone, even when they didn't need it. And you to be one of the best safety persons ever. If it wasn't for you I would've died after some of the wounds, even though you gave me one of them. Thats cool though. I hope I see you at church."

"You have been an awesome person this week. I'm so glad that you were put in our group. Our back seat sing alongs have been the best, and I now will admit that some country music is good. But the Harry and the Potters are still not so good, but it happens. Stay as awesome as always, and did I ever tell you you're my Hero."

"You are so bubbly and smarmt. I loved having you in our group. Never a cross word or a put down. Keep singing - you are the best!"

3rd Year - 2005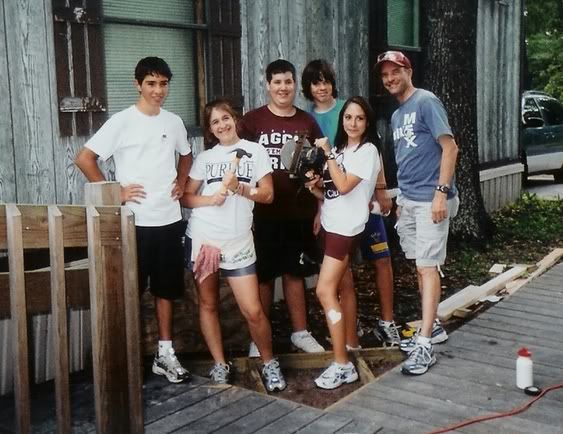 JoJo, me, Jason, Matt, Lori, Mr. Sovereign

Again, I loved my group. We worked at 3 different houses and our work ranched from replacing floors, wheelchair ramps, painting, putting down tile, widenng doors, and a lot of random stuff. It was good, we worked hard. I had a ton of fun, even though I was kinda sick a couple of the days. Nights were super fun too. Despite all of the other stuff that happened this year, it will always be the Ian year. I was extra flirty last summer and met a guy that I would end up dating for a few months. Although it ended up falling to crap, being with Ian at UM ARMY was really fun. He really made me smile.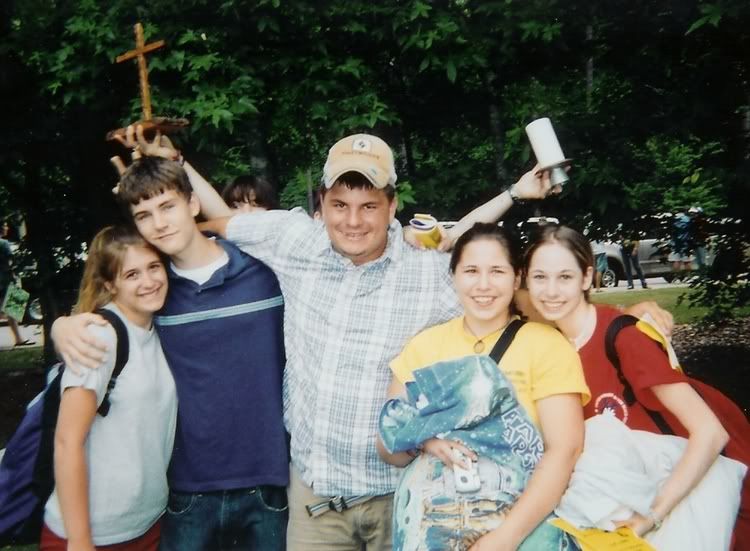 Me, Ian, Joel, Kara, Glynna

That was our 2nd year to go with the group from Bay Harbor, so it was kinda cool seeing kids from the year before. I called a kid in my group JoJo instead of his real name Joseph so that we could be Casey and JoJo. He was probably my best friend in my group, he was from Palestine and was just a genuinely sweet guy. So was everyone in my group. I loved my group leader. I really got to know Glynna and Kara better and that rocked, cause I pretty much love them tons upon tons. Ahh, it was so good. I loved it a lot, and still do. That was probably the best year, because of the awesome people and because every year gets better.

Book love :
"Thank you for being so nice and kind to me for all these years. Astros are going to the World Series. I'm glad that we could spend our last UM ARMY together."

"You're a nice 'Mom' presence in our group, while still being a kid at heart,. You're fun to be around, thank for all your help this week!"

"It was so great to be in your group. I'm so glad that I came to UM ARMY this year. You helped enlighten my experience. WHen I first arrived here, the only people I knew were the people from my youth group. Thank you for talking to me and being extremely nice to me on the first day especially because I was realliy shy. I will try my best to stay in touch with you after we leave. Have a great summer!"

"You brighten my day just by being in it. Keep being a light of God. may he bless you in all you do."

"I had so much fun with you this week, it has pretty much been sweet. You are one of the reasons that I com cause I know that whatever happens I'll always have you as a friend. And I hope that you know that I do love you and I NEVER mean any of the bad things I say to you."

"I get the last page but anyway keep workin hard for God. And don't worry about the authoritative voice, we can get you a whistle or something."


That just made me really happy inside and even more excited. Yay for everything! Especially UM ARMY. I need to start packing soon, make sure I have gallon ziplocs to put my outfits in and enough clean socks and such. It's gonna be good. YAY! Have a great day!
<3 Casey